Back to ambassadors
Role

Microsoft Business Program Manager

Employer

Microsoft

Training Provider and Qualification

Level 6 Chartered Manager Degree Apprenticeship at Aston University

Levels

Degree

Skills Gained

Apprenticeship Start Date

2023

What are your interests outside of work?

Family and friends, personal growth and progression, self-care
Hello, I'm Rayley
As a Business Program Manager, I own and drive programs of work that support the running and success of my business department. Currently, I own our Rewards and Recognition and Early in Career programs. On a day to day basis, I organise and lead Teams meeting , create and share strategy plans to stakeholders and review the programs I own to see how I can improve to support my departments community members.
Tell us more about your experience
Reflecting on my journey, I'd have to say gaining a Distinction grade on my Level 3 apprenticeship and progressing onto the Level 6 CMDA with Aston University has been the biggest highlight of my career so far. But also, having a fantastic team that support and encourage me everyday to achieve more. The biggest challenge I've faced so far is the work-life balance. Being an apprentice isn't easy but it's understanding that everyone is on their own journeys and you have to figure out what works best for you to succeed. Linking to this, is understanding how to turn off from all together both apprenticeship and work tasks, life is too short so remember to live it!
At Microsoft, I'm very lucky to have a fantastic manager and team that support me everyday. There is also a great apprentice community, which is great for networking too!
When I left college, I was encouraged to go to university but I knew this wasn't the right next step for me personally. I got a full time role at a firm and after a few months into role I decided it wasn't giving me positive energy and that I wanted to thrive at the job I did. An apprenticeship is a brilliant way to learn on the job, gain experiences, build your reputation in a company, earn money and gain a qualification. Since I've done an apprenticeship, I can't describe the progression I've made not only in my work self but personal self too. I can't thank apprenticeships enough!

"Do it! Take the leap! "
I would advise to learn about yourself and what your strengths and weaknesses are. It's important to find an apprenticeship and role that gives you energy and empowers you to keep going everyday. Don't apply for the first apprenticeship you see, search about to see the best suited options to you. Apprenticeship hiring can be completive but the best advice I can give is be authentic no matter what!

Other ambassadors
George K
Degree | Support Specialist
I specialise in Microsoft's support solutions. It requires me to understand customer's needs and challenges so I can fill those gaps with services from Microsoft. ...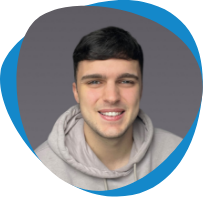 George P
Advanced Level 3 | Microsoft Intune Technical Consultant
Working in Technical Consultancy (Phoenixs) I specialize in the migration and deployment of Microsoft products. I spend most days with customers, usually doing infrastructure disc...
Jarrishan R
Higher Level 4 | Business Operations Associate Apprentice
Microsoft is a great employer at supporting personal development goals. One example of this is that I wanted to educate myself on AI as it was a passion of mine. Microsoft not onl...
Become an Ambassador
We're on the hunt for ambassadors who want to volunteer to talk about their experiences to inspire young people and tell them about all the opportunities available to them after school, college or further in their career.
Get in touch