Back to ambassadors
Role

Microsoft Cloud Solutions Architect

Employer

Microsoft

Training Provider and Qualification

BSc Digital and Technology Solutions in Software Engineering (Level 6)

Levels

Higher Level 6

Skills Gained

Apprenticeship Start Date

2018

What are your interests outside of work?

I love outdoor sports like kayaking, hiking and gorge walking. I also really enjoy travelling and exploring places that go off the beaten track – I've even visited Svalbard in the Arctic! I like to spend my time doing anything creative. I really love making earrings, painting, and sculpting with clay.
Hello, I'm Lily
I think people also believe that apprentices don't do the 'proper' job and just make coffees all day, but we're actually doing the full-time job. I've never even made a coffee in the last 3 years!
Tell us more about your experience
I never originally planned to do an apprenticeship because I wasn't even aware that they existed in the field I wanted to study. But then I heard about the apprenticeship opportunities offered by Microsoft, and it was a no-brainer! You get 4 years of experience working in one of the top software companies in the world, a free degree, and a salary. Plus, the hands-on work really backs up what you're studying in real-time.

My role at Microsoft is really technical but still customer-facing. It involves building cloud technology, running migrations, and developing applications for the Public Sector. I mainly create cloud solutions and present demonstrations.
"In my role, every day is different!
I handle customer visits, internal meetings, focus time to build solutions and have time dedicated to extracurricular projects, like women in technology. I love that I can have so much real-life impact in my role. One of the first projects I worked on at Microsoft was building an app for the NHS to predict which hospitals were busier than others to redirect ambulances! I really feel like I'm making a difference with my work.
The proudest moment I've had during my time as an apprentice is when I won 'Apprentice of the Year' at the CRN Women in Channel Awards! I had just finished the first year of my apprenticeship and I never thought I would win, but it felt incredible to be recognised for all the work I do to advocate for women getting into STEM and technology and for those early in their careers.
"If I had to give advice to someone considering an apprenticeship, I would say unless you have a particular subject in mind, like studying medicine, then why should you have to go to uni to do it?"
If you don't, seriously consider the apprenticeship route. There are so many benefits, and barely any negatives. You still get the 'uni lifestyle' if you want it, just apply to a large company! That's the experience you won't get at university and will give you a huge advantage in future job applications.
I had never even coded before my apprenticeship, and yet I applied for the most technical role going at one of the biggest tech companies in the world! I think the technical world, and anything outside your comfort zone, can be intimidating, but the trick is to just say yes to everything you can - you never know where it could lead you to!
To this day there are still times where I face the imposter syndrome, but practice makes perfect, it slowly goes away the more you do. I've spoken to people who are at the top of their game and they still face it, so remember you're not alone!
Microsoft is an amazing place to work, I couldn't recommend it enough. It's such a large, global organisation which means there's a huge array of opportunities to get involved in. I am particularly passionate about women in technology and have formed an 'Early in Career Society' which brings together apprentices, interns and graduates from different companies and industries, to form a group like a university society.
I've been able to pick up loads of skills in my time. One of them is communication – it's key to my role. We need to be able to explain highly technical concepts at an understandable level. I've done loads of talks on my journey into, and at, Microsoft; I even spoke to 2000 people at once! I've even developed the ability to code in a few languages, which I'm still amazed at because at times it felt impossible!
"Experiences like this have had a huge impact on my confidence and public speaking skills and have formed me into who I am today."
From the very beginning of my apprenticeship, I discussed my future plans with my manager and mentors. While it has changed and developed over the years, they have always been supportive and helped me plan for my next stage. My current plans are to remain in my role and specialise in artificial intelligence and machine learning. I would love to move into technical management and work my way up the career ladder - hopefully one day I'll be the CEO of Microsoft. Now that would be a good way to inspire people into apprenticeships!
So, don't be put off - apprenticeships cover most fields of expertise, just keep looking on different websites like GetMyFirstJob to find the best match for you!
Interested in becoming an ambassador? Find out more!

Other ambassadors
George K
Degree | Support Specialist
I specialise in Microsoft's support solutions. It requires me to understand customer's needs and challenges so I can fill those gaps with services from Microsoft. ...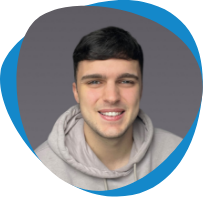 George P
Advanced Level 3 | Microsoft Intune Technical Consultant
Working in Technical Consultancy (Phoenixs) I specialize in the migration and deployment of Microsoft products. I spend most days with customers, usually doing infrastructure disc...
Jarrishan R
Higher Level 4 | Business Operations Associate Apprentice
Microsoft is a great employer at supporting personal development goals. One example of this is that I wanted to educate myself on AI as it was a passion of mine. Microsoft not onl...
Become an Ambassador
We're on the hunt for ambassadors who want to volunteer to talk about their experiences to inspire young people and tell them about all the opportunities available to them after school, college or further in their career.
Get in touch