Back to ambassadors
Role

Microsoft Data & AI Cloud Solution Architect

Employer

Microsoft

Training Provider and Qualification

Digital & Technology Solutions Degree with QA

Levels

Advanced Level 3

Skills Gained

Apprenticeship Start Date

2021

What are your interests outside of work?

Sports Like Squash & Golf. Like Travelling and eating different cultural foods
Hello, I'm Luke Y
My role at Microsoft focuses on supporting and empowering our Customers to be successful and get more out of Microsoft Azure. I work closely with the vast portfolio of Azure Data & AI services from Data Analytics, AI, Machine Learning & much more. Where I am known as a technical trusted advisor for our customers on how they can achieve more with the services they have purchased. On a regular day you can see things from meetings with chief data officers to customer demos around Microsoft products and lots more.
Tell us more about your experience
The highlight of my career so far has been taking part in a panel Discussion about apprenticeships with Rishi Sunak and being promoted to a full time employee mid apprenticeship.
One of the biggest challenges in my career has been time management. Working a full time job whilst balancing university can sometimes be difficult and a lot to take on but understanding that you need to be clear and open with the team around you and tell them when things may be getting too much or too heavy and getting help is crucial to your own mental wellbeing and work-life balance. Time management is something i feel every apprentice will naturally pick up but knowing you can say no if you feel overloaded is a key thing to remember
"Support at Microsoft is amazing. Every single person in the organisation is at your disposal. Help is always just a message away"
I chose to do an apprenticeship as the idea of being hands on while you learn and getting a head start on the working world over going to University and a degree with no student debt... No brainer
My advice for anyone wanting to do an apprenticeship is to find your passion of what business industry you like, whether that is tech, fashion or beauty and push for an apprenticeship in it. Be confident and research the business. Keep up to date with what they are working on and align your key values with the business to really connect with it and that will show in an interview and go a long way.
Other ambassadors
George K
Degree | Support Specialist
I specialise in Microsoft's support solutions. It requires me to understand customer's needs and challenges so I can fill those gaps with services from Microsoft. ...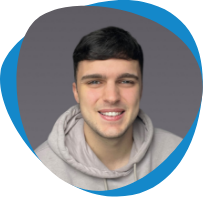 George P
Advanced Level 3 | Microsoft Intune Technical Consultant
Working in Technical Consultancy (Phoenixs) I specialize in the migration and deployment of Microsoft products. I spend most days with customers, usually doing infrastructure disc...
Jarrishan R
Higher Level 4 | Business Operations Associate Apprentice
Microsoft is a great employer at supporting personal development goals. One example of this is that I wanted to educate myself on AI as it was a passion of mine. Microsoft not onl...
Become an Ambassador
We're on the hunt for ambassadors who want to volunteer to talk about their experiences to inspire young people and tell them about all the opportunities available to them after school, college or further in their career.
Get in touch